Four basic colors make up the Tuscan color palette: ocher/reds, oranges, greens, and blues. Whether you want to create a Tuscan-inspired kitchen or a living room right out of Italy, learn more about the colors themselves – as well as the textures – before making final decisions on your paint and décor palette.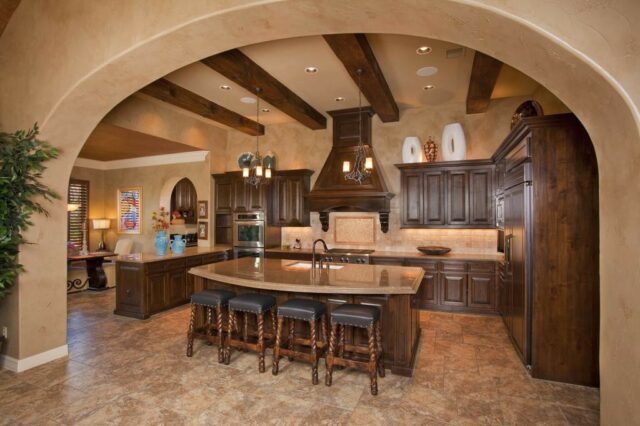 Tuscan Paint Colors
The Tuscan paint color that first comes to mind is ocher, a brownish-red hue derived from clay. Oranges tend to be faded shades, reminiscent of a sunset in its last moments. Greens in a Tuscan paint color palette reflect the brightness of the Tyrrhenian Sea upon which the area borders, just as the blues represent the sky. A Tuscan-inspired room can feature various shades from this paint and décor color palette without clashing.
Rustic Refined by Sherwin-Williams

In its HGTV Home by Sherwin-Williams line, the paint company offers a down-to-earth palette inspired by Italian stucco and other elements. For a dining room, it shows the ocher of Brandywine on the walls, giving way to the creamy yellow of White Raison in the kitchen. Cascade Green serves as the dominant color in the living room, with Creamy on the trim. The result: a warm, rustic palette that will suit many architectural styles in the country, desert, or by the sea.
Magnificent Mediterranean by Behr
In this line by Behr, the paint company finds inspiration in the luscious fruit trees, golden sun and fresh air of a Tuscan countryside. It shows the palette on an outdoor patio meant to transport you to the rolling hills of Northern Italy. The Cozy Cottage on the walls reflects the color of a sun-dappled field of wheat, while Goldenrod Tea trims the windows of the home. Italiano Rose provides pops of color on accent pieces and décor.
Tuscan Tile by Benjamin Moore
Benjamin Moore looks to ancient Italian floors weathered over time with a beautiful patina for the main color in its Tuscany paint color palette. It shows Tuscan Tile with the greenish blue of Fair Isle and the creamy neutral of Knitted Cape.
Tuscan Paint Textures
If you would like your walls to feature not only traditional Tuscan paint colors but also the accompanying textures, you should turn to a professional painter if you do not have experience with this painting technique.
It involves the application of a base coat using a nap roller, followed by the application of a second coat using a color washing brush to create small crisscross "X" patterns. It takes an experienced and light hand to apply the strokes, which then must be blended while the section is still wet. A smoother tool then opens the raised particles on the surface. If you let too long pass or apply the technique too quickly or with too much pressure, it can look messy instead of a representative of a traditional Tuscan home.
Tuscan Décor
To complete a Tuscan-inspired décor style, use colors that complement the paint palette when choosing furniture and accessories. Rustic wooden pieces in lighter finishes always fit into such a décor, as do wrought-iron chandeliers and other decorative elements, such as candle holders, lamps and the like.
If you would like to choose a more neutral color palette to allow décor to take center stage, lean toward the lighter shades and choose brighter pops for bedding, window coverings and accent pieces.
Getting Started With Tuscan Paint Colors and Décor
Now that you have an understanding of the Tuscan paint and décor color palette, hit the paint store or website and pull examples to show your professional painter. When painting the interior of your home, especially if you opt for the traditional finishes that accompany the palette, outsourcing the job to someone with both skill and experience ensures a job well done. Your Mora painter can also lend his or her expert advice if you need help making your final choices for a paint and décor palette.