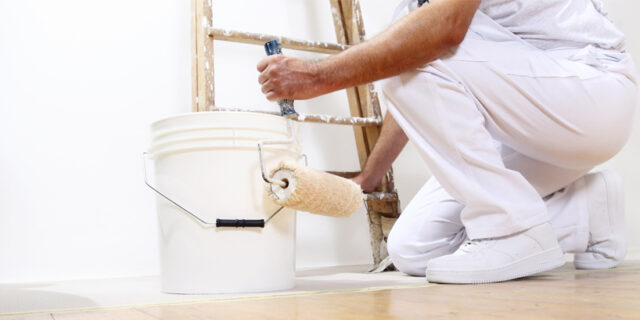 It's true that a handy homeowner can tackle many tasks around the house without professional help. However, house painting isn't one of them. Repainting your home, especially the exterior, is a monumental task that requires extensive use of ladders and other equipment to safely reach high heights, not to mention years of experience mastering the precise prepping, priming, and painting techniques. For these reasons, the advantages of professional house painting far outweigh attempting a DIY job.
Once you decide that hiring house painters is the way to go, you must ensure you select a qualified, reputable company for the job. Here's a list of questions to ask potential candidates that can help you know what to look for in a house painter.
Do you provide free estimates?
While the cost shouldn't be your only determining factor when hiring house painters, free estimates allow you to shop around before committing to one painter or another. Keep in mind that a low price doesn't guarantee quality products or a job well done. You'll want to ask for details about paint grade and warranties to ensure you're not comparing apples and oranges.
Will you keep me up-to-date on the progress?
Exterior house painting and multi-room interior projects are quite extensive, possibly taking more than one day to complete. Your painters should provide you with timely updates about their progress and whether they expect to complete the job on time. It's also reasonable to request daily start and end times, especially if you want to be at home while the painters are working.
Do you clean up after yourselves when the job is complete?
The last thing you want is to be left scrubbing mud off the floor or paint splatters from your windows. Accidents happen, but true professionals take measures to prevent them, such as by wearing shoe covers and laying down drop cloths on furniture, counters, and floors. Before they leave, your painters should thoroughly scour the work area for messes and vacuum or sweep up any dirt or dust they left behind.
Can you help me find the right paint color?
After years of experience on the job, professional painters should have a keen eye for what hues look best together. If you're not sure what color to paint the walls or exterior of your house, it's fair to ask for advice. Painters can also recommend particular brands or grades for the work at hand. Remember, when it comes to paint quality, you get what you pay for.
Will you fix any damaged soffits, drywall, or trim while on the job?
Painting over damaged walls or rotten siding may speed up the job and save the painters money, but it will not garner the high-quality results you're looking for. Make sure your house painters don't skip this important step. If they do, you could end up with bubbling or cracking paint, which would require you to redo the project. The repair work may add a little to your final costs, but it's well worth the superior outcome.
Hire Mora Painting for Professional House Painting Services
At Mora Painting, we strive to meet or exceed your expectations every time. When you work with us, the answer to every question above is a resounding "yes!" We offer both exterior and interior house painting to fulfill all your needs.
Call Mora Painting today for professional painting services that go the extra mile! Connect with us online or call (239) 772-1302 today to learn more or to schedule professional painting service.